Families and Friends United by AIDS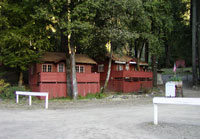 We are proud to announce the opening of our park to your nonprofit group or organization.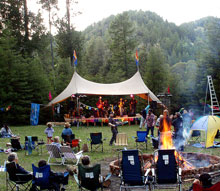 A totally wired amphitheater with a fire circle and a covered redwood stage. Nestled in a mountain forest opening.
Log cabins, redwood cottages, cozy trailers, and a modern campground within a beautiful park.
Accommodations:
Now open to group use
Non-profits groups and organizations
Family and Club gatherings
Parties and fundraising events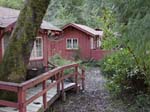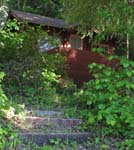 Our cabins all have beds, chairs, microwaves and refrigerators, bathroom with hot showers. Some cabins and all recreational trailers have complete kitchens. If availability allowes two single beds can be substituted for the double beds.
Campground has developed campsites, bathrooms with hot showers, hand sinks, and flush toilets. For your cooking we have a protected alcove with a commercial sink and hot water. The campground can accomodate a large group of campers and Rv,s.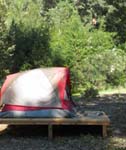 Special Group Rates Available
Please call Jessica Roemer at 707-984-6206